Screed and pumped concrete products
Thermotech Screed offers a range of screed and pumped concrete products suitable for a wide variety of applications. For more information on which Thermotech product is right for you e-mail: info@thermotech-screed.co.uk or see our Contact Us page.
Underfloor Heating Screed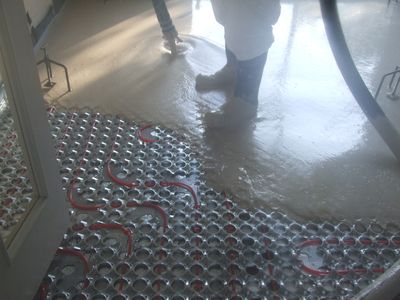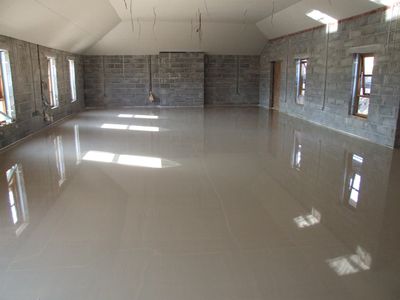 Underfloor heating screed, as such, does not exist as as an individual or specific screed product. Yes, along with others we refer to "underfloor heating screed" but really we should say "screed for underfloor heating".
Anhydrite screeds are ideally suited to underfloor heating screeding due to the characteristics of the gypsum based screeds. In particular their greater strength allows for screeding at a reduced depth, compared to traditional sand / cement screed, whilst maintaining the strength of the screed. Typically you would need a gypsum screed of 50mm when used with underfloor heating pipes, this would equate to 50mm on top of the insulation 15/16mm for the pipe on top of the floor insulation with a 34/35mm covering on the underfloor heating pipe itself. Generally, when specified with underfloor heating, a traditional sand / cement screed would need to be 75mm in depth. Therefore using a gypsum liquid screed reduces the amount of screed required and more importantly it means less screed on top of the underfloor heating loop resulting in a more responsive heating system. In addition there may be construction benefits from the saving in headroom. For more information on our anhydrite screeds see the Information page.
Super Screed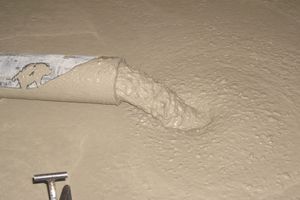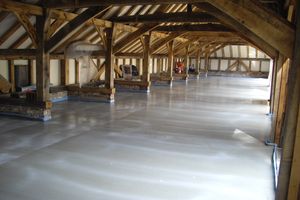 Super Screed is a cement based, pumped screed with coarse aggregate. It is suitable for all residential and commercial floors carrying pedestrian traffic that lie within BS 8204-1: 1999 classification reference are suitable, particularly those in category A and can be used on; concrete slab, pre-cast concrete floor, hardcore/ stone, polystyrene, timber, or timber based panel supports. Super Screed can be used in areas that are frequently wet. Super Screed, with reinforcing, is the ideal covering for the Hanson Jetfloor composite flooring system and provides a fast, well-insulated ground floor structure.
Decor Screed and Decor Screed Plus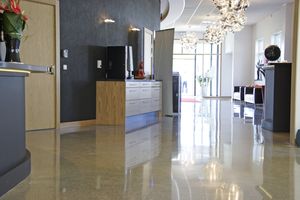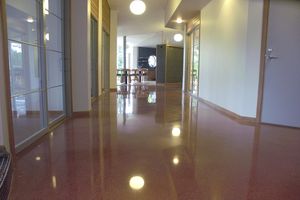 Decor screed is a Super Screed based product with, or without, post installation colouring. Decor Screed Plus incorporates the colour at the mixing stage, so the colour is carried to the full depth of the screed, ideally suited to situations where there are exposed edges.
Both products are then polished utilising the HTC Superfloor™ process. The result of this process is a stronger, more durable, shiny and beautiful polished concrete floor. These beautiful floors are hygienic, as easy to clean as they are hard-wearing, and equally suited to commercial and industrial situations.
Micro Concrete Slab
Using the same pumping and levelling process as the superior Thermotech screeds, concrete over-site slabs can be laid easily and to a high degree of accuracy. Get it level from the ground up with a Thermotech Micro Concrete Slab.
Acoustic Screed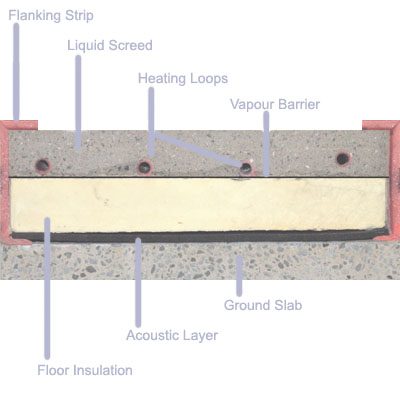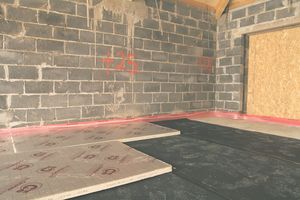 Thermotech can complete acoustic floor insulation compliant with Part E of Building Regulations. The acoustic insulation can also be used where underfloor heating is installed. Please note that this process is only suitable on initial construction, or complete renovation, and not for retro-fit or minor conversions. For more information on our acoustic floor solutions see the Information page
For more information on which Thermotech product is right for you e-mail: info@thermotech-screed.co.uk or see our Contact Us page.