Liquid Screed Installation
Thermotech operate throughout most of Britain, although not quite Land's End to John O'Groats!
Dealing with the leading suppliers of liquid screed - Lafarge Gyvlon - Bardon Highflow S - Maxit Alpha - Tarmac Truflow - Cemex Supaflo - we are able to meet pumped screed requirements throughout most of mainland Britain. As liquid screed is pumped into a location, it is possible to place it on site into areas that would be almost impossible with a conventional screed.
Unlike many operators, we operate our own liquid screed pumps and can offer liquid screed across a wide range of projects from relatively small residential single projects of 80 m2 or more, up to large commercial and industrial developments of thousands of square metres.
Underfloor Heating Screed - What is it?
Underfloor heating screed, as such, does not exist as as an individual or specific screed product. Yes, along with others we refer to "underfloor heating screed" but really we should say "screed for underfloor heating".
All of the liquid screeds mentioned above are ideally suited to underfloor heating screeding due to the characteristics of the gypsum based screeds. In particular their greater strength allows for screeding at a reduced depth, compared to traditional sand / cement screed, whilst maintaining the strength of the screed. Typically you would need a gypsum screed of 50mm when used with underfloor heating pipes, this would equate to 50mm on top of the insulation 15/16mm for the pipe on top of the floor insulation with a 34/35mm covering on the underfloor heating pipe itself. Generally, when specified with underfloor heating, a sand / cement screed would need to be 75mm in depth.
Therefore using a gypsum liquid screed reduces the amount of screed required and more importantly it means less screed on top of the underfloor heating loop resulting in a more responsive heating system. In addition there may be construction benefits from the saving in headroom.
Screed for Low Height Underfloor Heating Systems
Schluter systems and Max4Therm have developed low height systems for underfloor heating that designed to be incorporated within existing buildings where headroom is at a premium. These systems, Schlüter-BEKOTEC-THERM, Max4Therm FS10 or FS20, of underfloor heating can be used with a calcium sulfate liquid floor screed.
Thermotech can supply liquid screed for Schlüter-BEKOTEC and Max4Therm underfloor heating projects throughout most of Britain. See our Contacts page for your nearest screed centre.
Thermotech have years of experience in underfloor heating as well as liquid screed and all of our liquid screed operatives are familiar with the problems that can arise when underfloor heating loops are being screeded. As such they able to offer guidance to the site manager should they spot a potential problem with the heating loops and, more importantly, are careful not to cause damage to the underfloor heating loops when pumping screed over underfloor heating.
Flowing Floor Screed with Underfloor Heating
The following photographs show a typical installation sequence, in this case with underfloor heating.
Using liquid floor screed with underfloor heating - place your mouse over the image for a description.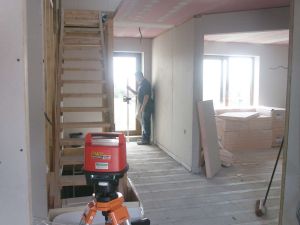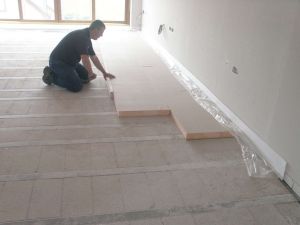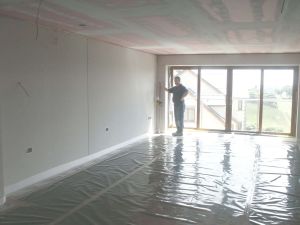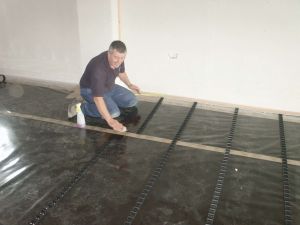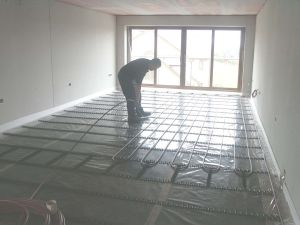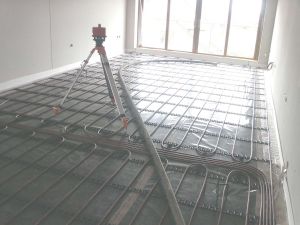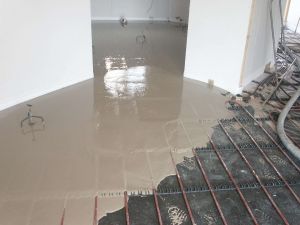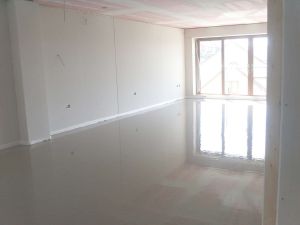 Preparation for Liquid Floor Screed
The preparation required for a liquid floor screed is no different to what is required for a conventional sand and cement floor screed. Although note that we say "required" as opposed to what a lot of people try to "get away with".
The build up of a ground floor would typically be:
DPM, Slab, Insulation, Vapour Barrier, Floor Screed.
Or if underfloor heating is to be installed the build up would be:
DPM, Slab, Insulation, Vapour Barrier, Underfloor Heating Loops, Floor Screed.
Naturally this can also be extended to upper floors where a beam and block construction, or concrete plank is used, and in these cases the DPM would not be present although the vapour barrier is still required.
The purposes of the vapour barrier is not directly related to damp from the ground. The vapour barrier is required by the manufacturers of the insulation, such as Celotex or Kingspan, to prevent contamination by floor screed. The vapour barrier also forms a separation layer to minimise cracking should movement occur below the screed.
For this purpose, the most convenient and safest form to use is a roll format. Folded vapour barrier has creases in it which take time to remove fully and if not removed could result in induced cracking of the screed.
Edge insulation, also known as perimeter strip or flanking strip, must be placed around all walls to separate the floor screed from the walls and any vertical pillars that extend into the floor. Depending on the insulation used, and other purposes required, it may also provide for thermal and acoustic insulation. Once again we stress that these measures should be taken regardless of whether liquid screed or conventional screed is used, and also whether underfloor heating is installed or not.